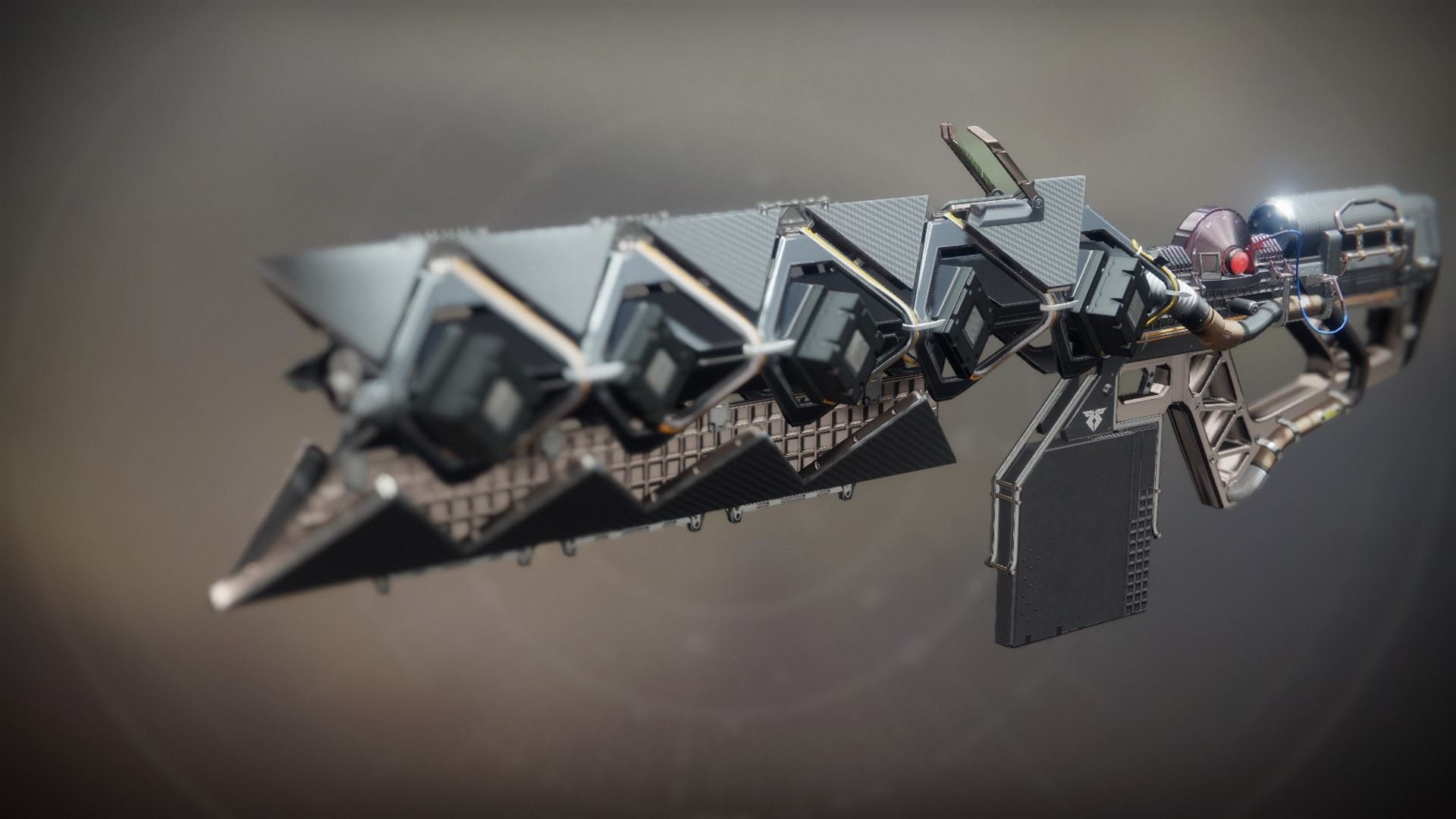 Sleeper Simulant
Exotic
Linear Fusion Rifle
Solar
Subroutine IKELOS: Status=complete. MIDNIGHT EXIGENT: Status=still in progress.
Read Lore
V229CBI800JHS215 AI-COM/RSPN: ASSETS//ARESN//IMPERATIVE IMMEDIATE EVALUATION DIRECTIVE This is a SUBTLE ASSETS IMPERATIVE (secured/CONFERENCE) This is an INTERNAL ALERT. Hypothesize that incomplete analysis of subtle assets has compromised synergy potential of resource GUARDIAN pool. Re-engage non-transactional dispensation protocol. Operation MIDNIGHT EXIGENT is NOT YET COMPLETE. Requested protocol deferred. Stand by for GALATEA REFLEXIVE to generate new function. GALATEA requires suspension of MIDNIGHT EXIGENT. ALERT ALERT ALERT event rank is SKYSHOCK: INSIDE CONTEXT. MIDNIGHT EXIGENT must remain active under deniable authorization. Execute emergency SKYSHOCK diagnostic. STAND BY: This is an INTERNAL ASSETS INVESTIGATION (unsecured/BRAY) Justification resource GUARDIANS may be utilized for non-networked ad-hoc operations during CTESIPHON CLARION. Reassign 4 percent of reclaimed CHLM assets to new directive: declare IKELOS- Declare primary goal: military fortification. Declare secondary goal: prolong ARES-NORTH occupation by AUTHORIZED USER and resource GUARDIANS. Execute short hold for partial shutdown and reactivation. STOP STOP STOP V22NPI5000CLV008
Competitive PvP

Quickplay PvP

Competitive Co-Op

PvE
Survival

Countdown

Clash: Competitive

Control: Competitive

Crimson Doubles

Trials of the Nine

Trials of Osiris

Elimination
Altar of Flame

The Burnout

Distant Shore

The Dead Cliffs

Endless Vale

Javelin-4

Pacifica

Meltdown

Bannerfall

Firebase Echo

Wormhaven

Convergence

Radiant Cliffs

Equinox

Legion's Gulch

Emperor's Respite

Midtown

The Citadel

Retribution

The Fortress

Solitude

Vostok

Gambler's Ruin
PvP Insights
Item Statistics
Selecting weapon perks and mods can alter the stats shown below.
| | | |
| --- | --- | --- |
| Impact | | 41 |
| Range | | 63 |
| Stability | | 41 |
| Handling | | 42 |
| Reload Speed | | 36 |
| Charge Time | | 1024 |
| Magazine | | 4 |
| | | |
| --- | --- | --- |
| Aim Assistance | | 57 |
| Inventory Size | | 10 |
| Recoil Direction | | 65 |
| Zoom | | 25 |
Season 14
Season of the Splicer
Season 13
Season of the Chosen
Modified

-

4/19/2021

Modified

-

2/8/2021
Season 12
Season of the Hunt
Season 11
Season of Arrivals
Season 10
Season of the Worthy
Season 9
Season of Dawn
Modified

-

1/27/2020

Modified

-

12/9/2019
Season 8
Destiny 2: Shadowkeep
Modified

-

11/11/2019

Modified

-

10/28/2019

Modified

-

9/30/2019
Season 7
Season of the Opulence: Penumbra
Season 6
Season of the Drifter: Joker's Wild
Season 5
Season of the Forge: Black Armory
Season 4
Destiny 2: Forsaken
Modified

-

9/17/2018

Modified

-

8/31/2018

Modified

-

8/27/2018
Season 3
Destiny 2 Expansion II: Warmind
Modified

-

6/26/2018

Modified

-

5/23/2018

Modified

-

5/15/2018

Added

-

5/7/2018
Reviews
To write reviews and manage your Guardian while playing, install Destiny Item Manager.
1 year ago
on PlayStation
I'm just salty because I can't get the catalyst to make this thing viable.
1 year ago
on PlayStation
Great weapons with loads of versatility. Currently working on catalyst but without it my main problem is the slow charge time. Even without the catalyst however it's great for bursting bosses or taking out that tower-like enemy in the distance while still moving. The key difference of this weapon, compared to something like the Whisper, is that this can be used at all ranges effectively, breaks shields like they aren't there and can score a headshot regardless of what is in way, including the enemies back armour.
Embarrass enemy Supers! Spank Invaders! Punish Collectors! Make minors, majors, and bosses go to bed! Accidentally laser-split yourself during Flawless runs! It does it all, just a little slower! 18,000 kills and going strong.
Sleeper Simulant more like ResidentSleeper
1 year ago
on PlayStation
Did they nerf this again?
1 year ago
on PlayStation
R.I.P.
Whattttt Last Word and Thorn are busted??? Better nerf sleeper!
This poor thing has been nerfed so many times... And it dodges all Linear Fusion Rifle buffs too!
1 year ago
on PlayStation
Sleeper Simulant
1 year ago
on PlayStation
I miss the good old times, but this weapon is still one of my favorite.
1 year ago
on PlayStation
1 year ago
on PlayStation
Its really sad how bad this thing has gotten, it used to be a great gun but now its just turned into something flashy you keep in the vault, it really could use a buff
A well-rolled legendary linear fusion rifle does more damage and DPS than masterworked sleeper
Quite bad in comparison to other top-DPS weapons, such as whisper or Idzanagi, but if you have none of those, or you don't have a better exotic to fill the slot, then sure, this weapon can do work. Just keep in mind, that without catalyst its pretty bad. PvE 3/5 PvP 2/5