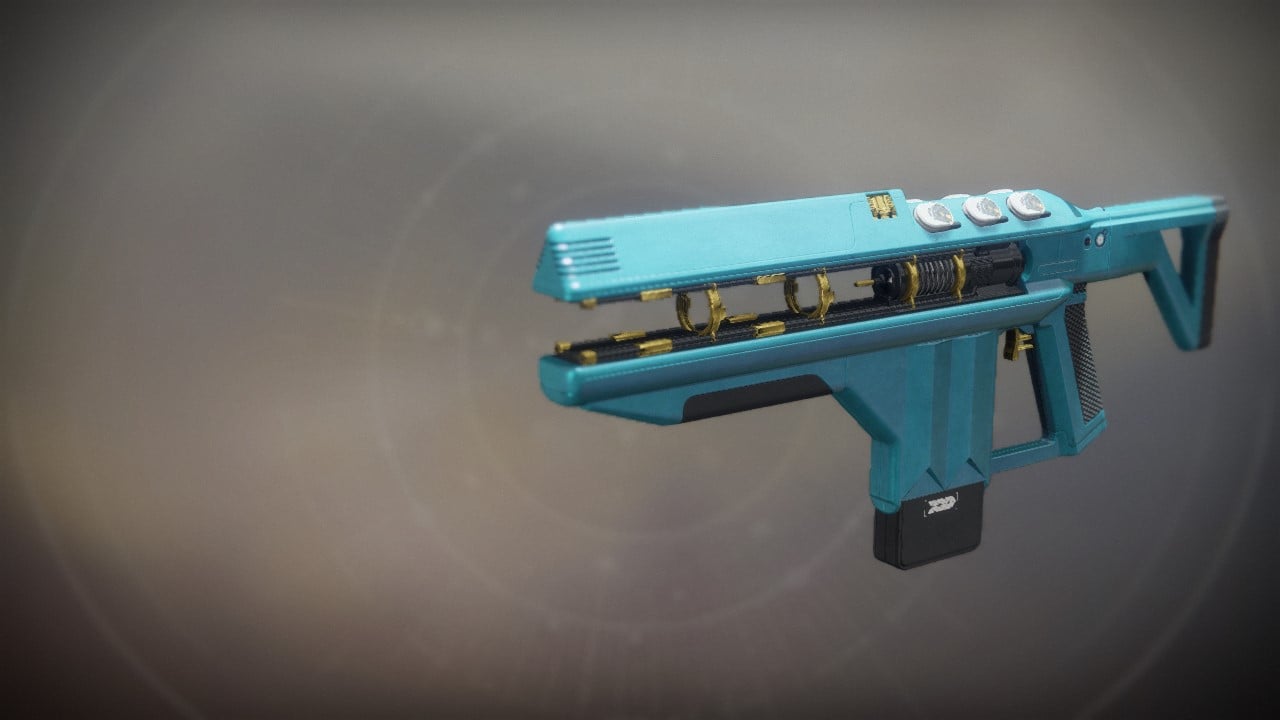 Merciless
Exotic
Fusion Rifle
Solar
Entropy is inevitable.
Read Lore
"The thought was simple enough—sync a weapon's firing and targeting systems to a caged onboard artificial intelligence programmed to actively seek fulfillment of the weapon's base driving function. Simply put, give the weapon an awareness of its purpose. "If the machine is meant to destroy, what would happen if we made it aware of its intended goal? "What would happen if it reacted to any failure to achieve that goal by focusing more intently on defining the parameters of said goal and adjusting its function to more aggressively seek out the successful execution of its purpose? "These are the questions we asked ourselves while engineering the initial prototype. The answers we found—I think you'll agree—were encouraging." – Incomplete record, author unknown
Competitive PvP

Quickplay PvP

Competitive Co-Op

PvE
Survival

Countdown

Clash: Competitive

Control: Competitive

Crimson Doubles

Trials of the Nine

Trials of Osiris

Elimination
Altar of Flame

The Burnout

Distant Shore

The Dead Cliffs

Endless Vale

Javelin-4

Pacifica

Meltdown

Bannerfall

Firebase Echo

Wormhaven

Convergence

Radiant Cliffs

Equinox

Legion's Gulch

Emperor's Respite

Midtown

The Citadel

Retribution

The Fortress

Solitude

Vostok

Gambler's Ruin
PvP Insights
Item Statistics
Selecting weapon perks and mods can alter the stats shown below.
| | | |
| --- | --- | --- |
| Impact | | 75 |
| Range | | 45 |
| Stability | | 39 |
| Handling | | 47 |
| Reload Speed | | 49 |
| Charge Time | | 1040 |
| Magazine | | 8 |
| | | |
| --- | --- | --- |
| Aim Assistance | | 69 |
| Inventory Size | | 55 |
| Recoil Direction | | 64 |
| Zoom | | 15 |
Season 15
Season of the Lost
Season 14
Season of the Splicer
Season 13
Season of the Chosen
Modified

-

4/19/2021

Modified

-

2/8/2021
Season 12
Season of the Hunt
Season 11
Season of Arrivals
Season 10
Season of the Worthy
Season 9
Season of Dawn
Modified

-

1/27/2020

Modified

-

12/9/2019
Season 8
Destiny 2: Shadowkeep
Modified

-

11/11/2019

Modified

-

10/28/2019

Modified

-

9/30/2019
Season 7
Season of the Opulence: Penumbra
Season 6
Season of the Drifter: Joker's Wild
Season 5
Season of the Forge: Black Armory
Modified

-

1/28/2019

Modified

-

11/30/2018
Season 4
Destiny 2: Forsaken
Modified

-

9/17/2018

Modified

-

8/31/2018

Modified

-

8/27/2018
Season 3
Destiny 2 Expansion II: Warmind
Modified

-

7/16/2018

Modified

-

6/26/2018

Modified

-

5/23/2018

Modified

-

5/15/2018

Modified

-

5/7/2018
Season 2
Destiny 2 Expansion I: Curse of Osiris
Modified

-

4/3/2018

Modified

-

1/23/2018

Modified

-

12/11/2017

Modified

-

12/4/2017
Season 1
Destiny 2 Release
Modified

-

11/14/2017

Modified

-

10/18/2017

Added

-

9/5/2017
Reviews
To write reviews and manage your Guardian while playing, install Destiny Item Manager.
My first exotic weapon in Destiny 2. I equipped it constantly until I realized much later that cluster Rocket is the meta and hated unable to change Heavy without loosing all ammo. Now I don't use it for almost anything. Reason being, lowest ammo reserve among fusions considering the was it is meant to be used, worst utility out of all exotic Fusions and lack of auto reload means you can't take advantage of it's perk for long. Granted it got the highest DPS out of all Fusions but lowest total damage also you shouldn't consider fusions if DPS is your concern. I think to be useful max ammo reserve should be 20 to 24 with 2 reserve and Impetus should be active until stowed or reloaded.
Deceptively high dps. You can do a substantial amount of damage to bosses such as zulmak without having to aim at his head which makes it easier to dodge the ads if you are doing pit solo. It also secretly has kill clip so keep that in mind.
1 year ago
on PlayStation
1 year ago
on PlayStation
perk was pretty good with auto reloads but it deactivates on a reload which makes it just a fusion rifle that can do a bit more dps
1 year ago
on PlayStation
u dont need words if you have seen what it can do with a reload perk
1 year ago
on PlayStation
This thing still absolutely melts even after it was made a special weapon, I only wish its ammo economy wasn't so dire without running double reserves and scavenger. Extremely good for the nightmares in Altars, one of the best special weapons you can bring for it. Insane in PvP too with the catalyst, it's possibly even stronger than the coveted god roll Erentils.