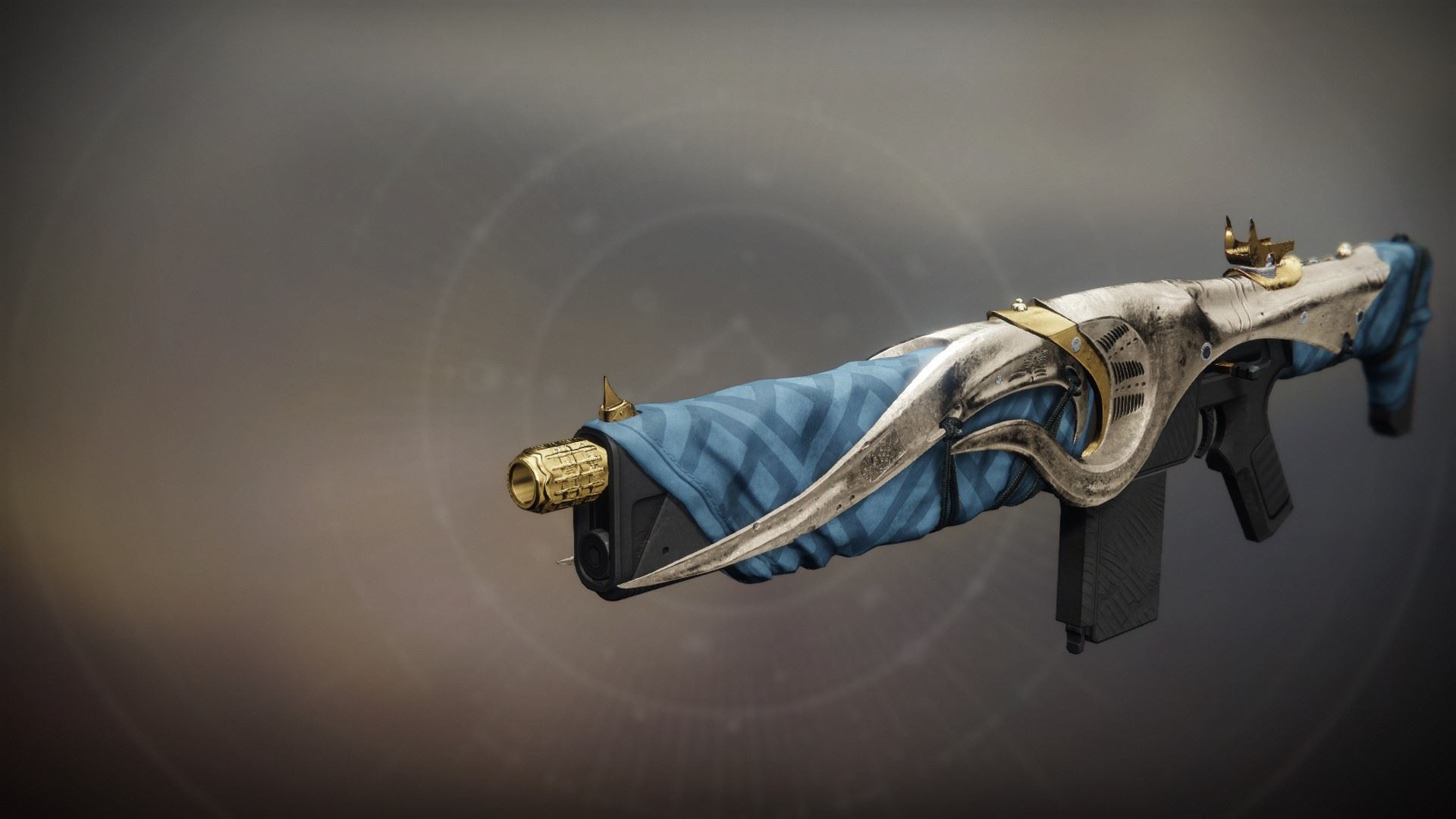 Tigerspite
Legendary
Auto Rifle
Kinetic
"What else can we do but take up arms?" —Corsair Amrita Vae
Read Lore
Kazia watches as Amrita tears through their little cobbled-together home. She's ripping it apart, trying to put it into a backpack. "Hurry," she's saying. "It's finally happening." Kazia watches, but all she sees are the walls they built with their own hands. The tiny garden they coaxed out of the parched earth. The mountains on the horizon, so unlike any in the Reef. The salvage they transformed from left-behind scraps into beloved possessions. She watches, but all she thinks of is the before and the after. She's starting to realize that she stopped longing for the "before" years ago. It's clear now that Amrita has been dreaming of it every day. When Kazia speaks, it takes all her courage. "What about our life here?" Amrita reels. "What life?" she says, thoughtless. "This isn't a life, Kazia. This is waiting. Hiding. This is… purgatory. The Queen's alive. Petra needs us. We have to fight." Of those who go and those who stay, Amrita goes and Kazia stays. Alone.
Competitive PvP

Quickplay PvP

Competitive Co-Op

PvE
Survival

Countdown

Clash: Competitive

Control: Competitive

Crimson Doubles

Trials of the Nine

Trials of Osiris

Elimination
Altar of Flame

The Burnout

Distant Shore

The Dead Cliffs

Endless Vale

Javelin-4

Pacifica

Meltdown

Bannerfall

Firebase Echo

Wormhaven

Convergence

Radiant Cliffs

Equinox

Legion's Gulch

Emperor's Respite

Midtown

The Citadel

Retribution

The Fortress

Solitude

Vostok

Gambler's Ruin
PvP Insights
Item Statistics
Selecting weapon perks and mods can alter the stats shown below.
| | | |
| --- | --- | --- |
| Impact | | 29 |
| Range | | 66 |
| Stability | | 47 |
| Handling | | 46 |
| Reload Speed | | 46 |
| Rounds/Min | | 450 |
| Magazine | | 33 |
| | | |
| --- | --- | --- |
| Aim Assistance | | 44 |
| Inventory Size | | 49 |
| Recoil Direction | | 68 |
| Zoom | | 16 |
Season 13
Season of the Chosen
Season 12
Season of the Hunt
Season 11
Season of Arrivals
Season 10
Season of the Worthy
Season 9
Season of Dawn
Modified

-

1/27/2020

Modified

-

12/9/2019
Season 8
Destiny 2: Shadowkeep
Modified

-

11/11/2019

Modified

-

10/28/2019

Modified

-

9/30/2019
Season 5
Season of the Forge: Black Armory
Season 4
Destiny 2: Forsaken
Modified

-

9/17/2018

Modified

-

9/10/2018

Modified

-

8/31/2018

Added

-

8/27/2018
Reviews
To write reviews and manage your Guardian while playing, install Destiny Item Manager.
Accurate with a pretty good Curated roll.
Accurate with a pretty good Curated roll.
Colocou rancor no nome é bom.
It's a good get out of trouble auto rifle. there is better and there are far worse.
It's a good get out of trouble auto rifle. there is better and there are far worse. Outlaw and Rampage work very well together on this gun.
just cause i felt like it
I really like my roll with 2 reload perks and KC. Would have preferred rampage if that would have been possible. My primary choice in reckoning as the reload is instant or as a general workhorse.
Like the range and controlability of the weapon. Had kill clip and outlaw roll on it.