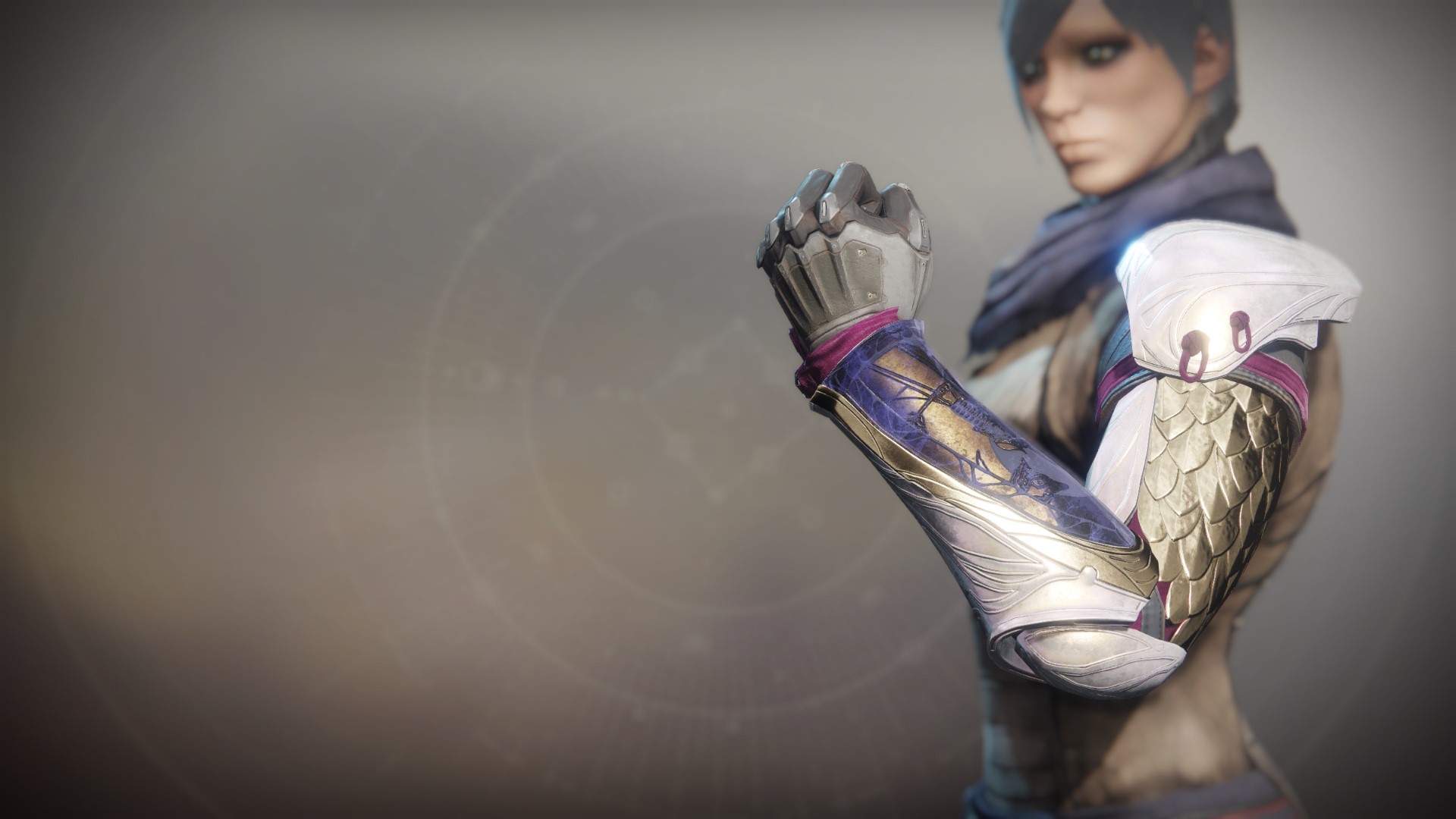 "I have not yet met my true death." —Sjur Eido, First Queen's Wrath
Read Lore
"This was on her body, Your Grace." A strange coin lay at the center of Abra's outstretched palm. Mara took it between thumb and forefinger and held up it to the cosmos with dainty contempt. Weregild, she thought. Powerful grief filled her chest, as thick and caustic and heavy as unset concrete. "And her bow?" "Gone." "Huginn? Muninn?" "The Ahamkara are dead, and their bones are silent. But Petra Venj has—" "Who?" "A Corsair. Recently titled." "…She is a CHILD." Paladin Zire flinched as if slapped. "My Queen. Our spies in the House of Judgment tell us the Wolves plan to attack Hygiea next. I loved Sjur, as I love all we have lost, and I grieve her. But if we divert our attention now to vengeance against an unknown enemy…" Mara put down the coin and allowed herself a small, humorless smile. "Then let it be my diversion."
Item Statistics
Selecting weapon perks and mods can alter the stats shown below.
| | | |
| --- | --- | --- |
| Mobility | | 1 |
| Resilience | | |
| Recovery | | 1 |
| | | |
| --- | --- | --- |
| Discipline | | |
| Intellect | | |
| Strength | | |
Season 8
Destiny 2: Shadowkeep
Modified

-

10/28/2019

Added

-

9/30/2019
Reviews
To write reviews and manage your Guardian while playing, install Destiny Item Manager.
3 weeks ago
on PlayStation
1 month ago
on PlayStation
A must-have if you have Accrued Redemption or No Turning Back + Eriana's Vow. Apply Quick-Access Sling from Ada-1 to your Kinetic Bow. Draw the bow, fire it, and you can quickly switch to Eriana's Vow and clean up. "Bows are trash" <-- A poor craftsman blames his tools.
1 month ago
on PlayStation
I love this these gauntlets. Oathkeeper + Wish-Ender = good times. You gotta like bows though.
1 month ago
on PlayStation