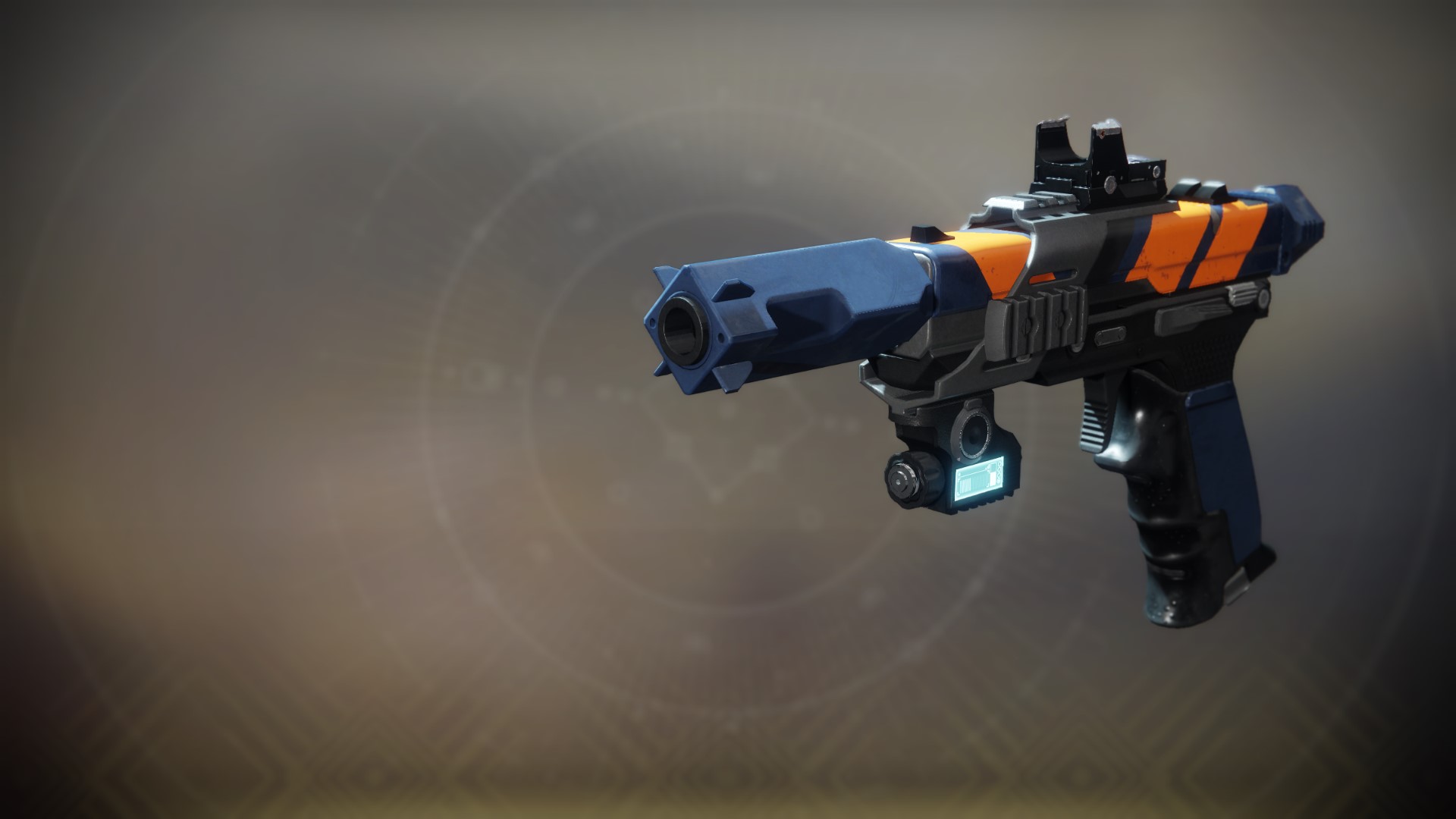 Buzzard
Legendary
Sidearm
Kinetic
Circle 'round, great harbinger of death.
Competitive PvP

Quickplay PvP

Competitive Co-Op

PvE
Survival

Countdown

Clash: Competitive

Control: Competitive

Crimson Doubles

Trials of the Nine

Trials of Osiris

Elimination
Altar of Flame

The Burnout

Distant Shore

The Dead Cliffs

Endless Vale

Javelin-4

Pacifica

Meltdown

Bannerfall

Firebase Echo

Wormhaven

Convergence

Radiant Cliffs

Equinox

Legion's Gulch

Emperor's Respite

Midtown

The Citadel

Retribution

The Fortress

Solitude

Vostok

Gambler's Ruin
PvP Insights
Item Statistics
Selecting weapon perks and mods can alter the stats shown below.
| | | |
| --- | --- | --- |
| Impact | | 49 |
| Range | | 42 |
| Stability | | 70 |
| Handling | | 56 |
| Reload Speed | | 37 |
| Rounds/Min | | 300 |
| Magazine | | 15 |
| | | |
| --- | --- | --- |
| Aim Assistance | | 89 |
| Inventory Size | | 44 |
| Recoil Direction | | 94 |
| Zoom | | 12 |
Season 15
Season of the Lost
Season 14
Season of the Splicer
Modified

-

5/24/2021

Modified

-

5/10/2021
Season 13
Season of the Chosen
Modified

-

4/19/2021

Modified

-

2/8/2021
Season 12
Season of the Hunt
Season 11
Season of Arrivals
Season 10
Season of the Worthy
Modified

-

4/20/2020

Modified

-

3/9/2020
Season 9
Season of Dawn
Modified

-

1/27/2020

Added

-

12/9/2019
Reviews
To write reviews and manage your Guardian while playing, install Destiny Item Manager.
I love this gun for crucible. Great for clean-ups or even short range dueling. Sidearm mods make it even more fun
pretty good as destroying stuff. it isnt recluse, but then again, nothing is. use swashbuckler and outlaw, and destroy ads
automatically turns my guardian into john wick
1 year ago
on PlayStation
This gun should be voted much higher. Sidearms dont get a ton of love, and for the most part are not in my rotation of weapons. Until now! This gun is perfect in many ways. Unique perk, fast loading perk, damage boost perk. This gives you plenty of ways to play. In addition to its usefulness hit hits really hard on most content. I probably wont bring it into a raid because of its range but an awesome gun to break up the usual suspects.
Not that i've played with many adaptive frame sidearms but hey it's the closest thing to a jakobs revolver you can get in this game
breachlight is just a better option imo, the only reason you should use this over breachlight is if you dont have a good roll, its also very easy to get but this thing will be staying in my vault for eternity
Extremely versatile and fun to use.
1 year ago
on PlayStation
1 year ago
on PlayStation
I slay with this thing in PVP, have taken it into the Garden Raid and any other PVE situations and it performs about as well as SMG not named recluse did last season. Probably the most versatile gun I can think of, given the swashbuckling and osmosis and the what not
1 year ago
on PlayStation
ССАНИНА ГОВНА А НЕ АРУЖИЕ
1 year ago
on PlayStation
why does everyone say sidearms are good? just because their are like two mods for side arms doesn't mean this is good
Kenetic Rattler....makes u feel like a Ninja. Fun to pair it with the Apostate Sniper bc they both have silencers.