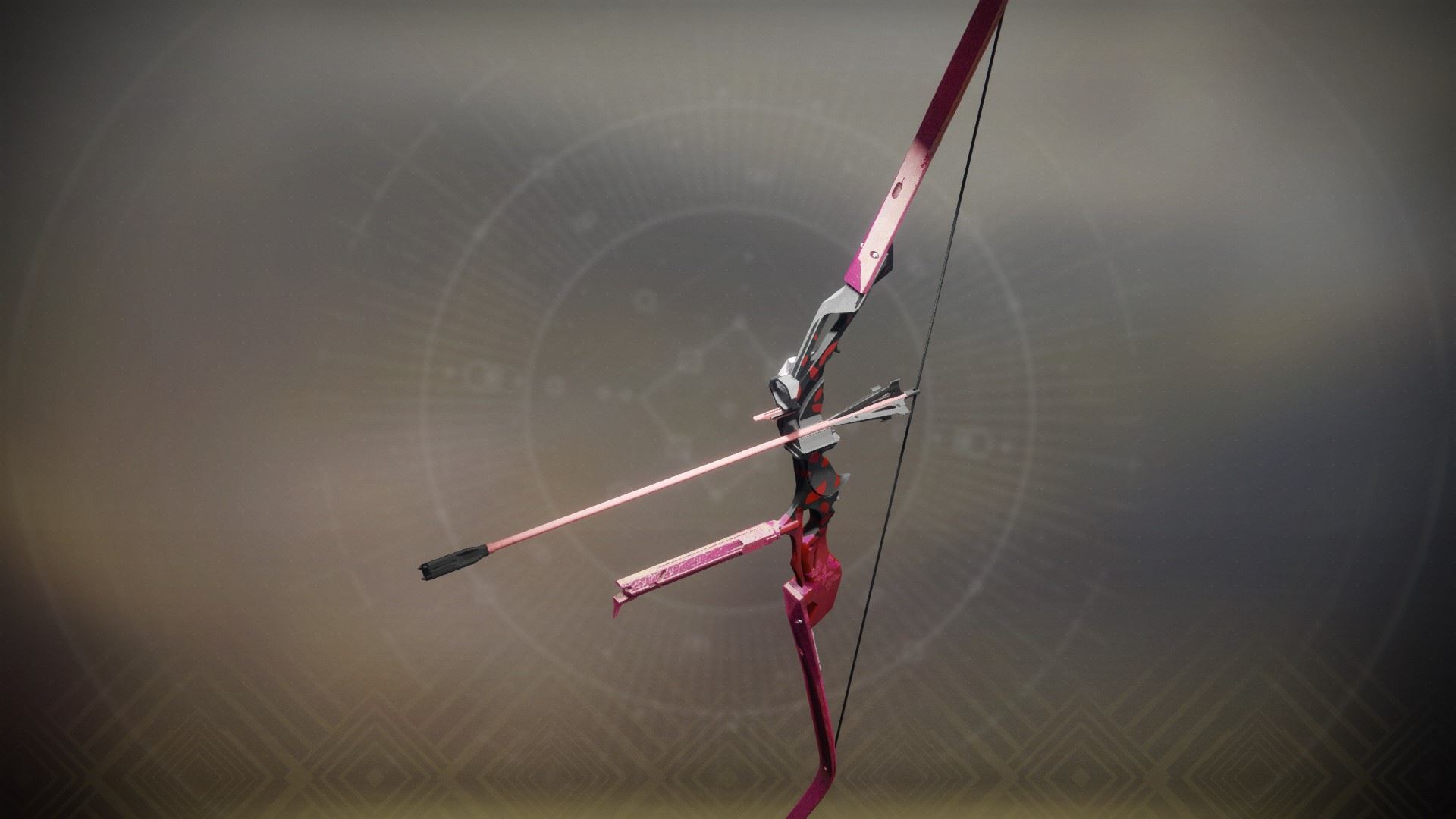 The Vow
Legendary
Combat Bow
Solar
"'Til death do us part." —Lord Shaxx
Read Lore
In the courtyard of the Tower, Lord Shaxx stares out at the Last City. He puts his foot up on the railing and sighs. Arcite 99-40 knows Shaxx's moods, because they are his own moods. He sidles up to Shaxx and follows his gaze to the horizon. "What's on your mind, boss?" he asks with the friendly rhythm of a local bartender. Shaxx is quiet for a long time, but Arcite is indifferent to the passage of time. When Shaxx speaks, it is with a deep, sobering gravity. "Today," he says. "I will marry them all." Hours later, after Arcite has finished tying off the bouquets and gathering the doves from the mountains beyond the City, Shaxx addresses the courtyard. "Guardians," he booms. "These Crimson Days are a time to renew our bonds to one another. We gather together. We remember what we owe each other. We declare our love." He holds up a bow for the crowd to see. "Bring your fiery passion to the Crucible. Prove your devotion to your Bond." He pauses. "To those of you who win this bow… I offer my hand in marriage! Take it or leave it!" Arcite releases the doves. Someone screams. Doves have not been seen in the Last City for a long time.
Competitive PvP

Quickplay PvP

Competitive Co-Op

PvE
Survival

Countdown

Clash: Competitive

Control: Competitive

Crimson Doubles

Trials of the Nine

Trials of Osiris

Elimination
Altar of Flame

The Burnout

Distant Shore

The Dead Cliffs

Endless Vale

Javelin-4

Pacifica

Meltdown

Bannerfall

Firebase Echo

Wormhaven

Convergence

Radiant Cliffs

Equinox

Legion's Gulch

Emperor's Respite

Midtown

The Citadel

Retribution

The Fortress

Solitude

Vostok

Gambler's Ruin
PvP Insights
No data for the last 30 days, please change the filter.
Item Statistics
Selecting weapon perks and mods can alter the stats shown below.
| | | |
| --- | --- | --- |
| Impact | | 68 |
| Accuracy | | 54 |
| Stability | | 60 |
| Handling | | 64 |
| Reload Speed | | 64 |
| Draw Time | | 612 |
| Inventory Size | | 64 |
| | | |
| --- | --- | --- |
| Aim Assistance | | 84 |
| Charge Time | | 80 |
| Recoil Direction | | 51 |
| Zoom | | 18 |
Season 13
Season of the Chosen
Season 12
Season of the Hunt
Season 11
Season of Arrivals
Season 10
Season of the Worthy
Season 9
Season of Dawn
Modified

-

1/27/2020

Modified

-

12/9/2019
Season 8
Destiny 2: Shadowkeep
Modified

-

11/11/2019

Modified

-

10/28/2019

Modified

-

9/30/2019
Season 5
Season of the Forge: Black Armory
Reviews
To write reviews and manage your Guardian while playing, install Destiny Item Manager.
feels great, sounds great, looks great, this is a cute-ass bow and i would die for it any day
Good static rolls. Hush is still better on paper, but I am not a fan of hip firing bows. Just feels weird. This one doesn't require that, so I'll probably use it more even though it's not technically as good.
Pretty nice feeling bow. Second only to Hush.
Pretty nice feeling bow. Second only to Hush.
Pretty nice feeling bow. Second only to Hush.
Solid static rolls, great draw time. Arguably the easiest solar bow to get of the current three in the game in the least amount of time. Definitely worth getting.
Limited Edition. I've tried several bows - this one's the lightest and easiest to use.
1 year ago
on PlayStation
Useful solar bow
good bow. and unobtainable
Really glad I worked on getting this bow last year. Has proven to be really useful and probably my favorite bow this season.