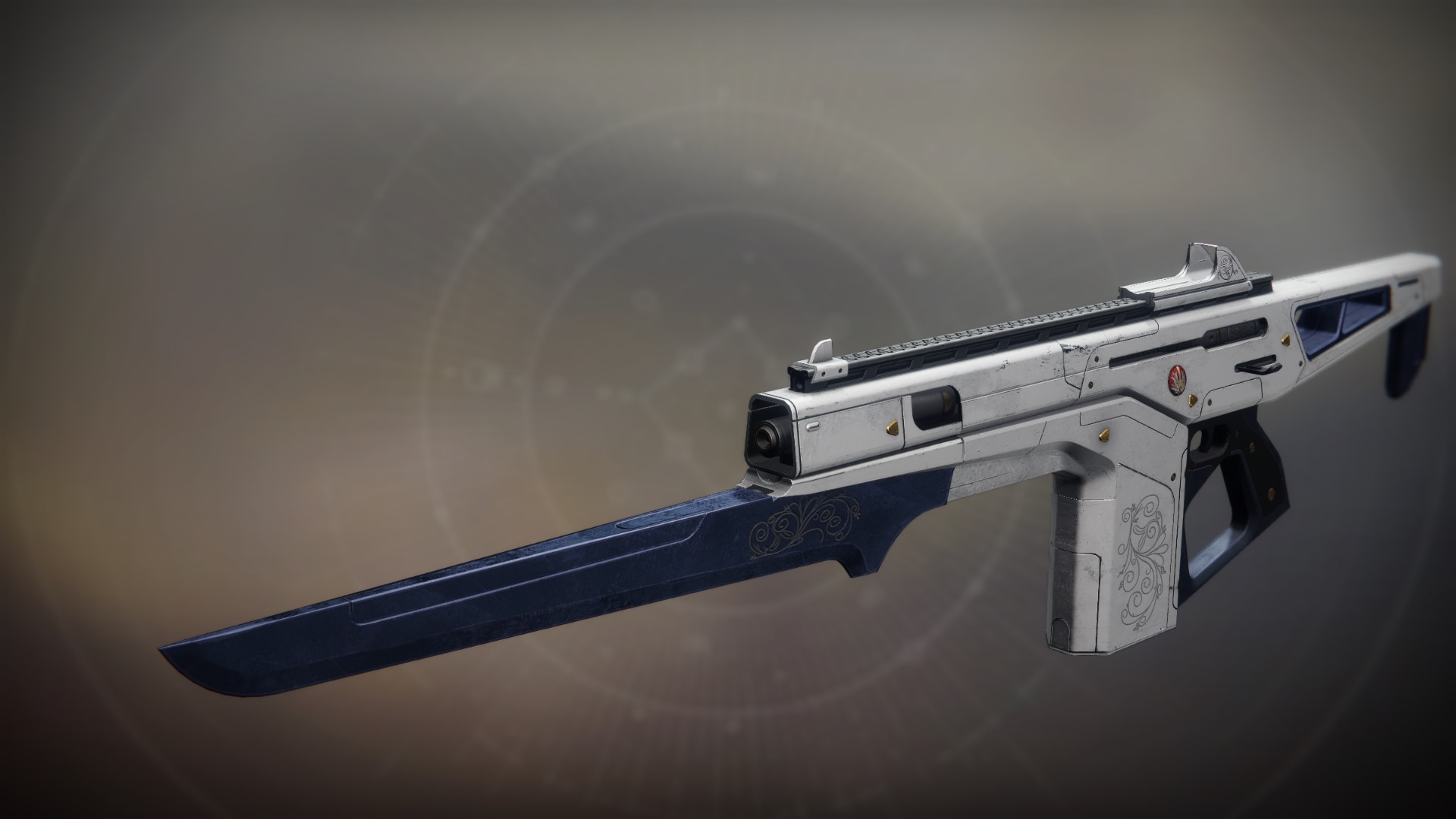 Monte Carlo
Exotic
Auto Rifle
Kinetic
There will always be paths to tread and methods to try. Roll with it.
Read Lore
"The math isn't the thing. The math is an inside joke. Just old solutions some say hint at the pinnacle of pre–Golden Age thought mechanics. My partner used to go on about it. About probabilities and random patterns used to solve the unsolvable. I never really paid attention. Outdated science never equaled a good payday, if you follow. Anyway, we used to run resource grabs along a coast out east. We found the rifle in the ruins of a gamblin' hall. In a vault ten feet thick. Behind glass, like it was someone's somethin' special—a real showpiece. Thought for sure we had a solid score. Funny bit was, the spot where we found it…? It was named after the math. Or, that's what my partner said. My money says the opposite, but what I know about science and history is limited to what I can sell and the sum it'll fetch. "So, we're out in that ruined hall with loot to spare and an old-time shooter that should trade for a small fortune. Then scavengers hit. Small crew, but mean. My partner took bolts. Dropped. I tried to cover him, but the pirates were on us. Last I saw, his Ghost got scraped by a line rifle. Nothing I could do. Only reason me and my girl made it out was she was off scoutin' our escape, and I… The Fallen were distracted by my partner. But, I'm tellin' ya… there was nothing I could do." "You were lucky to make it back… With your life, and your 'treasure.'" "You could say that." "You survived an unauthorized run in known Fallen territory. You found an advanced Golden Age firearm with functional tech in a sealed chamber. You sold the weapon's tech to a gunsmith you won't name for a 'small fortune' in Glimmer. And your partner is nowhere to be found—'dead by Fallen hands'—so that 'fortune' is all yours. No need to split it." "Sure. When you look at it that way, the math ain't so bad." —Egon Bash, a questionable Hunter under Vanguard interrogation
Select Activity Type
Competitive PvP
Competitive PvP
Quickplay PvP
Competitive Co-Op
PvE
Survival
Countdown
Clash: Competitive
Control: Competitive
Crimson Doubles
Trials of the Nine
Elimination
Altar of Flame
The Burnout
Distant Shore
The Dead Cliffs
Endless Vale
Javelin-4
Pacifica
Meltdown
Bannerfall
Firebase Echo
Wormhaven
Convergence
Radiant Cliffs
Equinox
Legion's Gulch
Emperor's Respite
Midtown
The Citadel
Retribution
The Fortress
Solitude
Vostok
Gambler's Ruin
PvP Insights
Item Statistics
Selecting weapon perks and mods can alter the stats shown below.
| | | |
| --- | --- | --- |
| Impact | | 21 |
| Range | | 51 |
| Stability | | 60 |
| Handling | | 64 |
| Reload Speed | | 81 |
| Rounds/Min | | 600 |
| Magazine | | 43 |
| | | |
| --- | --- | --- |
| Aim Assistance | | 50 |
| Inventory Size | | 52 |
| Recoil Direction | | 80 |
| Zoom | | 15 |
Season 8
Destiny 2: Shadowkeep
Reviews
To write reviews and manage your Guardian while playing, install Destiny Item Manager.
42 minutes ago
on PlayStation
This thing, top row Sunbreaker, and Dunemarchers... Everything dies
11 hours ago
on PlayStation
A unique weapon and good at what it does.
Best auto rifle in the game for pve or pvp, pre-nerf swashbuckler and the ability regen is amazing. Accurate, good damage and great perks.
Use it with the One-Two-Peregrine wombo combo. I can do one of those random Vex Invasions on the moon faster than I've ever been able to with a full group of people. Even on other classes, this is probably the most powerful auto rifle in the game. It's got pre-nerf Swashbuckler, reloads on a melee kill (doesn't really matter with Enhanced Auto Rifle Loader), and gives you your melee abilities back VERY fast. Use it. It's amazing.
I love it and it is good for builds
Imagine being that one guy who dislikes this weapon
How did anyone downvote? Seriously though, it feels like an exotic should. I just got back to the game for the first time since January, and the fact that Whisper was nerfed is just appalling and really confusing actually. It no longer feels exotic. Monte feels exotic, it's fun to use, and it creates fun builds. It's powerful, but hardly gamebreaking. Because of all this hype I have a feeling Bungie will end up nerfing it and that's really going to be upsetting. I don't know why we can't just let exotics be exotics. Let us feel powerful... if Bungie needs to separately balance b/w PvE and PvP then whatever... but seriously man. They need to stop nerfing exotics.